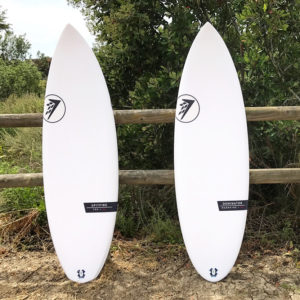 Two of the most sought after boards in the world and the Nix has them at our flagship store in Daytona, shipping anywhere in the U.S.Want these boards? Cannot find them? Call us at 386-253-1234!
The SPITFIRE combines a Diamond tail and STEP-DOWN tail rail, giving the SPITFIRE the tail bite of a thinner board, without losing the Dominator's speed and flotation. The SPITFIRE offers the same 5/4/3 fin options and a low entry rocker for easy paddling.
Designed by Dan Mann, and perhaps the most versatile board in the Firewire quiver to date, the DOMINATOR combines a full outline with a thick foil from nose to tail and a 5/4/3 fin configuration. Dan moved the wide point back to reduce the nose profile, maintaining all of the speed but with none of the top turn drawbacks of retro nose outlines. Built with the flex characteristics and lightweight of FUTURE SHAPES TECHNOLOGY, the DOMINATOR paddles like it's turbo charged and does not track like heavier PU boards with similar dimensions.
Stop by our Original Location and check out one of these boards for yourself!